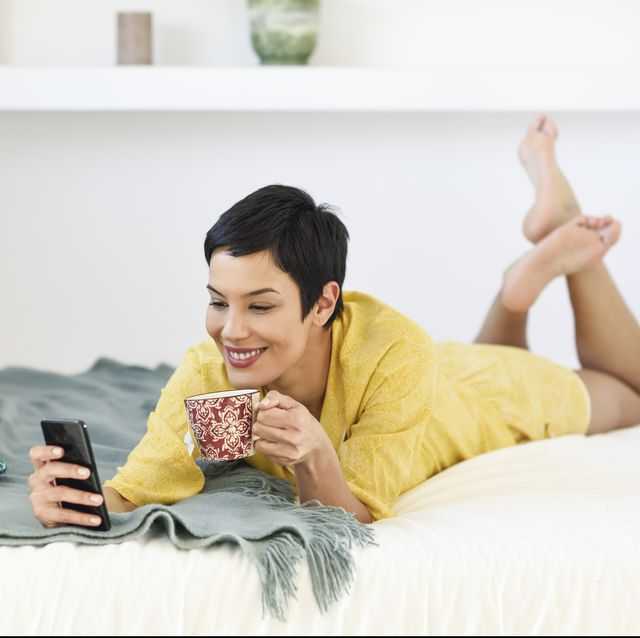 Knowing what to say when you're dating can be tough. That's why having some flirty texts in your back pocket is important.
If thinking of flirty conversation starters isn't your forte, don't worry. Simply send one of these messages to your crush to take things to the next level!
Flirty texts to start a conversation
The best flirty messages make you appear cool, calm, and collected. Showing too much affection too soon can put some people off and make you look desperate.
Subtly commenting on someone's profile, complimenting them on their appearance, or using cheesy pick-up lines are great ways to start. Just make sure to keep things PG.
Here are some ideas for flirty things to say to your crush when you haven't met them in person yet.
Hey there! You look super fun.

There isn't a word in the dictionary that could describe your kind of beauty.

Hi, I love your profile picture! Where was it taken?

Hey, I'm a fan of (insert musical artist) too. You must have great taste!

Hello there. I see you like (insert interest here). How about we meet up, grab a cup of coffee, and discuss it/them sometime?

Hey, I'm quarantining due to COVID. Please keep me entertained. I'm so bored.

Wow, you look like a lot of fun. Tell me more about yourself!

Hi there. I'm not into raisins, but if you offered me a date, how could I say no!

I don't work for UNESCO, but you're a site of astounding natural beauty.

Hello! You have such a nice profile picture, I couldn't resist messaging you.

I'm no clairvoyant, but I can see a future between you and me.
Cute texts to send on date night
Do you ever feel nervous before a first date? Don't worry, you're not alone. Take the edge off by sending your crush one of these flirty texts before you go out.
Hey, you have beautiful (insert eyes, hair, or smile). I can't wait to see it/them in person later.

I'm no scientist, but I think we're going to have pretty good chemistry.

I can't believe I get to meet a real-life angel today.

I've told all my friends about the great girl/guy I have a date with tonight. Does that make me a loser?

I've been looking forward to this date all week.

What are you planning on wearing tonight? Just so I know what color my outfit should match.

I've had butterflies all day long. I can't wait to see you later.

Let's quit the small talk and get to the flirting!

I woke up this morning with a big smile on my face thinking about you.

I can't stop thinking about you. Tonight can't come quick enough!

I know that tonight is only date number one, but I think this could be the start of something truly special.

How about I pick you up tonight?

Am I dreaming? Or am I just going on a date with the girl/guy of my dreams?

Do all guys/girls feel this nervous when they're about to go on a date with you?

I've been brushing up on my table manners for our date tonight!

I know that admitting this will probably make me seem like a bit of a loser, but I'm seriously looking forward to our date.

What are your favorite flowers? Just so I know what ones I should surprise you with tonight.

Here's the question though. Should we order mimosas or bloody marys for brunch?

Here's the menu for our date venue later. Do you see a dish that catches your eye?

Hey, good lookin'. I'm lookin' forward to later.
Basic flirty texts
When you're dating, consistency is important. If you've just gone on a great date with a great person, then pick up the phone and tell them that!
Revealing your feelings may feel daunting, but it's key to improving your dating game.
Tonight you made me feel like I was 18 again, just with less acne!

Did cupid manufacture my keyboard? Because he put 'U' and 'I' together!

I don't need a beer. I'm already intoxicated by you.

Who would've guessed I'd be lucky enough to be dating such a hottie?

That was one of the best dates I've ever had. Thank you.

(Insert romantic song) just came on the radio. It made me think of you!

If you'd have told teenage me that I'd be sending flirty texts to a girl/guy like you in 2021, I wouldn't have believed you.

You will be the last thing on my mind before I fall asleep tonight.

So, how about meeting up again soon?

Our first date set the bar pretty high!

So, if our first date was brunch, does that mean date number two should be dinner?

Congratulations! You've just set the record for the world's best date.

Your dinner looked amazing last night. Remind me to copy your order on date number two.

Want to hear a secret? That was the best date ever.

Hey. If you thought our first date was good, just wait till you see what I have up my sleeve for date number two.

My head still hurts from last night. I hit it when I fell for you.

I really enjoyed speaking with you. You're a real catch!

I have the image of you at (site of the last date) scorched into my mind. You're a vision!

You make my heart feel full!
So, there you have it, a list of flirty texts for you to send to your crush whenever you desire. Keep watching this space for more love advice. Enjoy!