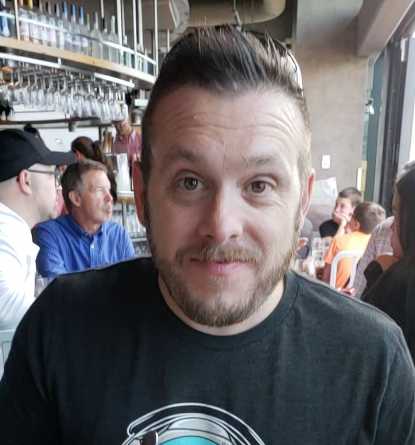 Tell us a bit about you and how the Flock started?
My name is Todd Staples and I founded "The Flock" project in 2014 with a small team.  The plan was to build a better online dating experience rooted in having "Friends by your side" during the online dating experience.   We then identified other user frustrations with current services, though talking with people on our Facebook Groups.  We then targeted those frustrations as well.  For going on 7 years now, I've worked tirelessly to build what I believe to be the next generation of online dating.  One where it's more social, less lonely, more effective, more natural, and more safe.
We built a social network, dating app hybrid.   One where users can invite their friends in with them to form "dating groups".  These friends can be single or not single. Our invite code feature let's users who just want to help a friend join in a hidden mode.  We have a full social network with a blog, news feed, groups, and more.  Additional features and functionality being added all the time. 
But why pursue this?  Aren't there thousands upon thousands of dating apps right now?
When I tell people that I'm also working on a dating app/website in addition to a full time job and family, their natural inclination is to ask, "Why? Are you making any money?".  This is tough for me to answer.  It's tough to tell someone you've worked on something for 6 years and dumped a ton of money into it, with no return.  The truth is, we've never made a dime doing this.  Sooooooo.....    Why?
I get it.  Why do it if you're not making money?
It's a valid question.  I guess my answer is this is not about making money to me.  At least not right now. Some day i'll focus my efforts on how to monetize but right now it's all about getting the word out and ensuring features that are needed are being added.  This takes up most of my time.
I can give back with this also..  It's a way for me to use my skills as a software engineer to give back and at the same time enhance my skills and learn new things.  So to me just because i'm not making money right now, doesn't mean i'm not gaining the ability to in the future.
Also,  I think dating someone and falling in love is the best thing anyone on this earth can experience. It's the reward for getting through life.   I really believe everyone deserves to find their person, be fulfilled, and feel that awesomeness, at least once.  
What opportunities did you see in the market?   
Well, one can't just blindly follow their dreams of building something and spend lots of their own money doing it, right?   Pursuing it has to make sense, and be likely to some day turn a profit.   
The first opportunity I saw was that online dating lacked a buddy system concept.  "Buddy Groups" in dating are one of the safest ways to date these days.   The concept of a social network and friends per say, didn't exist in online dating, and I figured if it did, people might be more successful in that context.
I had met people online while i was single through comments on Facebook and MySpace.  The context helps, and commenting back and forth can more naturally progress to a 1:1.  This medium was not being used in the industry.   There were social networks, or there were dating apps.  Creating a hybrid, we figured, could be the magic needed to make online dating work again for people.
Historically friends/family have been the one's to be the matchmakers.  There are also people who are matchmakers for a living.  They're usually expensive but they're there for a reason.  You don't know everyone.  You need a mechanism to meet people who are also single and looking.   Dating apps with match % algorithms just aren't cutting the mustard anymore.
Friends introduce friends and make matches all the time.  Friends help friends figure out who to send a message to on dating apps as well. 
The matchmakers of yesteryear (friends/family) are responsible for staggering numbers of successful relationships across the globe.   How many people in your family do you think met because a friend set them up?  How many people would say that when they were dating their now wife or husband, they sought the help and advice of friends, neighbors, family, and the like.   
The second opportunity I attacked with ferocity was fake users and scammers.  They ruin online dating and waste everyone's time and they I wanted no part of their BS on my platform.   For me and for the singles it serves.  I want only real profiles.   So I built intelligence into "the Flock" to firewall most traffic from bad sources, and analyze for, detect and disable fake/scammer profiles.  Problem solved.
Why friends?  What makes you think it'll all work?
I don't know if it will all work better, but I'm damn hopeful.   You see, I met my wife many years ago in 2009.  The only reason I met her that night was because my friends forced me to come out of my shell (home) and meet them for drinks.   I was grumpy after a recent breakup and didn't want to do anything.  I wanted to wallow in my own disdain and disappointment.   But when my friend was badgering me to come out I finally caved and went.   It was the best decision of my life.
Little did I know at the time it was going to be more than just my friends and I.   It was a group.  A bunch of friends of friends.  We all started mingling, laughing, chatting and it was fun.  My anxiety went away and I started enjoying myself right away.   
The woman I met that night, and now call my wife, was a friend of a friend of the friend who asked me to come out.  And boy oh boy did we hit it off.  No one night stand stuff, just real genuine connection.  After that night and while starting to date her, I constantly enlisted the advice and opinions of friends and family to figure out how to navigate the waters of a new this relationship.  I was much more confident in what to do when and how, with a little help from my friends.
Later on after my wife and I were married, we found ourselves advocating for the meeting of two friends of ours from different parts of our daily lives.  They knew each other from high school but hadn't talked in decades.  I met this particular woman when getting physical therapy for an injury I sustained.  Found out during our appointments that she knew my buddy and had known him since high school.  She was single, he was single, and I was like...  "oooh!   opportunity knocks!".   I talked to my single buddy, and he was absolutely interested in seeing her again.  My wife and I worked to set them up by throwing a party and inviting them both.  And it worked!   
They're still together today.  
It works!  This isn't a unique story.
And now here we are.. "the Flock" is built and deployed and people are on it.
What's the end goal?
My goal with this is to learn and grow as a software engineer, and build a product that helps actual people be happy and feel loved.  I know of 1 marriage that resulted from our early applications and that alone inspires me to keep building. To think of all the other couples that are together today from my work is awesome.
I guess the end end goal is to build something that generates revenue too.  But one thing at a time.
I am a software engineer.  I like to figure out solutions to really difficult software/cloud/computer problems.  Making online dating work for people is a hard problem and fortunately or unfortunately, that is the one I decided to put my time into.  Like you, I just give my best every day and hope things get a little bit better each day I'm here. 
Our Guest:
Todd Staples
Founder and lead software engineer of "the Flock"
Check us out here.   https://www.flockdating.com
Check me out here.  https://www.linkedin.com/in/toddstaples