Hey There...  :-)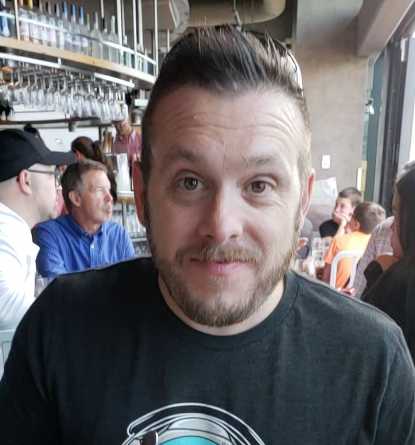 My name is Todd Staples and I'm the founder of "The Flock".  Since 2014 a very small team and I have been working tirelessly to build what we believe to be the next generation of online dating.  We believe online dating needs to be more social in nature so that creating connections feels more natural.  What you are seeing right now is over 6 years of entrepreneurship less than 4 people.  Pretty sweet eh?  We're proud of it.
But why pursue this?  Aren't there thousands upon thousands of dating apps right now?
When I tell people that I'm also working on a dating app/website in addition to a full time job and family, their natural inclination is to ask, "Why? Are you making any money?".  This is tough for me to answer.  It's tough to tell someone you've worked on something for 6 years and dumped a ton of money into it, with no return.  The truth is, we've never made a dime doing this.  Sooooooo.....    WTF?
This is not about making money to me.  Never has been.  Would I like to make money off of it?  OF COURSE!  Everyone loves money.   But really what I want first is to use my skills i've learned in software to give back and make things better for some genre of people.   This is my way of using my abilities as a programmer, entrepreneur, business person and builder of online applications to hopefully make somebody fall in love and be happy.  And no, i'm not bullshitting.
Some day, when this platform is reeling with real profiles and kicking butt I will ponder monetization.  But right now it's all about building a great product and learning as much as I can as I create.
In addition.
I'm a romantic.  Always have been.   I think dating someone and falling in love and all that is the best thing anyone on this earth can experience. I really believe everyone deserves to find their person, be fulfilled, and feel that awesomeness, at least once.  
But why online dating?   
This is the second question I get.   Obviously, one can't just blindly follow their dreams of building a beter thing right?  Pursuing it has to make sense, and turn a profit.  I'm still an entrepreneur after all.  So what's the opportunity cost and ROI on an undertaking such as this while you have a full time job and a family?   What could there possibly be new you could do for online dating?  
The opportunity I saw was that online dating lacked a buddy system concept.  Online dating also sucks from many different angles but this was the one I thought i could fix.  The lack of friends and the ability of friends to talk about a potential match to reason whether it made sense to meet them for real made no sense to me.  Historically friends/family have been the one's to be the matchmakers.  Not algorithms.  Algorithms are a new concept that is just trying to simulate advising.   Why do that when you have friends that want to be involved in finding you someone special?
Online dating lacked the social element that very much exists in the real world.  Friends introduce friends resulting in matches all the time.  Friends help friends figure out who to send a message to on dating apps all the time by looking over their friend's options.  Where are they IN the actual dating platforms?   Ohhh..  they're not allowed on.  They're kicked out because they're not "actually single".  Why not just hide their profiles and let them in?  Because that breaks their financial models.  How can you charge one user and not charge another?   
The matchmakers of yesteryear (friends/family) are responsible for staggering numbers of successful relationships across the globe.   How many people in your family do you think met because a friend set them up?  How many people would say that when they were dating their now wife or husband, they sought the help and advice of friends, neighbors, family, and the like.   
Can you name a dating app that allows that function inside their app and sites? 
NOPE.
So I made one.
Why friends?  What makes you think it'll all work?
I don't know if it will all work better, but I'm damn hopeful.   You see, I met my wife many years ago in 2009.  The only reason I met her that night was because my friends forced me to come out of my shell (home) and meet them for drinks.   I was grumpy after a recent breakup and didn't want to do anything.  I wanted to wallow in my own disdain and disappointment.   But when my friend was badgering me to come out I finally caved and went.   It was the best decision of my life.
Little did I know at the time it was going to be more than just my friends and I.   It was a group.  A bunch of friends of friends.  We all started mingling, laughing, chatting and it was fun.  My anxiety went away and I started enjoying myself right away.   
The woman I met that night, and now call my wife, was a friend of a friend of the friend who asked me to come out.  And boy oh boy did we hit it off.  No one night stand stuff, just real genuine connection.  After that night and while starting to date her, I constantly enlisted the advice and opinions of friends and family to figure out how to navigate the waters of a new this relationship.  I was much more confident in what to do when and how, with a little help from my friends.
Later on after my wife and I were married, we found ourselves advocating for the meeting of two friends of ours from different parts of our daily lives.  They knew each other from high school but hadn't talked in decades.  I met this particular woman when getting physical therapy for an injury I sustained.  Found out during our appointments that she knew my buddy and had known him since high school.  She was single, he was single, and I was like...  "oooh!   opportunity knocks!".   I talked to my single buddy, and he was absolutely interested in seeing her again.  My wife and I worked to set them up by throwing a party and inviting them both.  And it worked!   
They're still together today.  
It works!  This isn't a unique story.
The idea strikes!
Enter the idea for this website and apps.  "The Flock"
Friends helping friends find love.   A dating site, but even more.  Social networking, and news feeds, groups, chat groups, and more.  So that singles can mingle and if they wish, invite their friends to mingle with them.   Hopefully throughout that mingling, people meet.   After this, friends help friends do and say the right things (if needed) or just comment on their shirt choices in their pictures, and it's a all around better experience.  
It's a simple concept, dating site + social network site + buddy system.


So I gathered a small team of friends who were interested in helping me build it and we got to work building the initial applications of "the Flock'' over the course of 1.5 years.   We pulled it off and launched the first rendition of the app in 2016.  
The overarching goal
My goal with this is to make a difference in someone's life.  I know of 1 marriage that resulted from our early applications.  That alone inspires me to keep building.  Also the thought of  how many others have found their person on our apps that I don't know about?   It's fantastic to think about. 
I am a software engineer.  I like to figure out solutions to difficult problems.  I'm a bit quirky, and my friends would tell you I'm a bit odd.   Making online dating work for people is a hard problem and fortunately or unfortunately, that is the one I decided to put my time into.  Like you, I just give my best every day and hope things get a little bit better each day I'm here.
I sincerely hope you use the service my tiny team and I built here, and I really truly hope you find the love of your life on it.  That's the point, and that's why i'm doing this.  Plain and simple.


Then maybe someday when this thing is really doing great, I'll get paid back for all the effort and money I've put into it.   Until then, cheers and good luck my friends!  
Todd Staples
Founder and lead software engineer of "the Flock"
Check us out here.   https://www.flockdating.com
Check me out here.  https://www.linkedin.com/in/toddstaples